You are invited to:
Come and Dine with the King!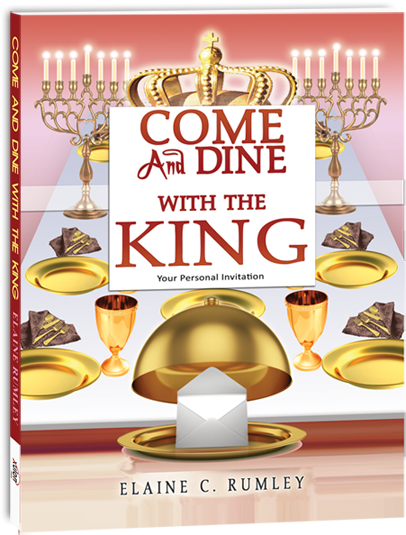 This book is written to reveal the bountiful table of the Lord, which is continuously set before us with the daily invitation from the King of all Kings, "Come and dine with Me". The King sets an exquisite table which is abundantly filled…A confidential table of sweet fellowship…A life changing table which is available to whosoever will, but few there be that find it. Now, it is your turn to answer His personal invitation. Won't you come?
Elaine Rumley has written this book out of a desire to lead others to His Table. Elaine's passion for more than forty years has been to see people exhorted, encouraged, trained in the Word, equipped as intercessors and released to powerfully fulfill their destiny in Christ. A gifted prophetic speaker, Elaine has ministered at numerous women's retreats, programs and churches across Europe, Bulgaria, New Zealand, India and throughout the United States. Her desire has been to raise up altars of prayer in individual lives and launch churches into a higher level of intercession and intimacy with Christ.
"Pastor Elaine Rumley's Come and Dine with the King is the most soothing and informative read I have had in quite awhile, and truly a balm for the busy heart…
I love this book, because it took me back to a much slower time, a calmer time in my life. As a teenager, out of respect for the Lord I had established an altar in my room. And every morning, immediately after crawling out of my bed, I would fall to my knees before my altar and pray. It was a small brown cabinet only knee high. I remember my overwhelming excitement when I bought a 10 inch Cross for it, placed it in the center and laid my Bible before it. A little piece of Heaven entered my life that day.  And it re-entered my life with Elaine's book…
Though I pray daily, every morning and throughout the day, there is something incredibly personal, intimate and powerful about coming before your own Altar before the Lord. There is such a calming effect.  Pastor Elaine has laid out a warm, simple and yet extremely profound plan for one's Altar and personal time with the Lord.  Each chapter is like a warm bath of wisdom that soothes away the aches and pains of life's challenges and allows the Holy Spirit to massage in God's Comforts as He wraps us up in His arms…  Because of Pastor Elaine and this wonderful book, I am no longer satisfied to rush through life with quick Christian Snacks, but I am returning home to relax and Come and Dine with the King."
David M. Humphrey, author of Dark Things, The Warrior's Agenda Combat Study Guide, and Confessions of a Guardian Angel.